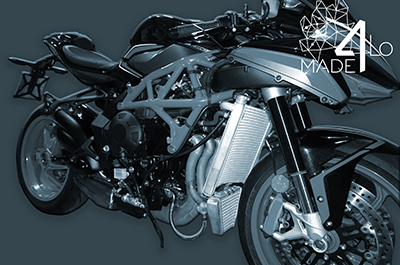 Large, complex in form, and functional – Made4Lo partners achieve another milestone with a functioning demonstrator showing the capabilities of advanced additive manufacturing and assembly within the processes.
Launched in 2017, Made4Lo (Metal Additive for Lombardy) is a project aimed at creating a network of enterprises to develop metal additive manufacturing technologies throughout the Lombardy region. This network includes companies and research centres with complementary skills. Throughout the project, this network turned into an extended factory over the territory founded not only on shared knowledge and its applications on 3D-printing technologies but also on sharing processes and infrastructures among several partners of the supply chain and on a full immersion education of technical personnel.
This partnership is composed of two research institutes – Politecnico di Milano and the University of Pavia – and companies namely Tenova, BLM, GF Machining Solutions, 3D-NT, GFM, Fubri, Costamp Group, and Officine Meccaniche Lafranconi.
Within the project Politecnico di Milano, Lafranconi, and BLM worked together to redesign and produce an exhaust manifold for 3-cylinder motorbikes using the Laser Metal Deposition (LMD) technology. Researchers carried out the activities in AddMeLab within Department of Mechanical Engineering using the BLM Additube LMD cell. The Additube cell was developed in collaboration with Politecnico and operates with a six-axis anthropomorphic robot, a tilting/rotating table and an integrated powder deposition head. These machine architecture allowed the team to work on and manage geometrically complex and large components.
The project faced several challenges concerning Design for Additive Manufacturing (DfAM), new deposition and production strategies, along with developing and implementing the toolpath trajectories using Siemens NX. The software integration was carried out in collaboration with Team3D and CNR-Stiima, which enabled to produce the component with such complex geometry.
The demonstrator shows several advanced features of the LMD technology such as depositing on the existing components used in the mass-production exhaust manifolds namely the engine connection flanges. Moreover, the separate arms of the manifold characterized by the three thin-walled tubular structures were produced in parallel, while avoiding machine collisions and guaranteeing gas-tight and stress-resistant conncetions. The catalyst filter was also assembled to the deposited part during the 14-hour long printing process. The final component design incorporating all these features is the work of designer Andrea Valensin. After the additive manufacturing phase the production cycle was completed with the welding of secondary tubes and the threaded insert.
Finally, the prototype manifold was assembled to a sports motorbike and tested on a test-bed. The results in power and torque were compared with the ones of the mass-production model. The manufacturing process knowledge of Politecnico, combined with the experience in the field of LAFRANCONI, made it possible to obtain these results. The demonstrator clearly showcases the synergy generated within the Made4Lo network.